Test Run: Check-in/Be-out (CiBo) with Best Price Guarantee

First Implementation in German Public Transport
Premiere in Osnabrück: For the first time, a Check-in/Be-out (CiBo) ticketing system with best price guarantee will be put into live operation in public transport in Germany. HaCon subsidiary eos.uptrade is implementing the innovation for users of the intermodal routing app VOSpilot powered by HaCon.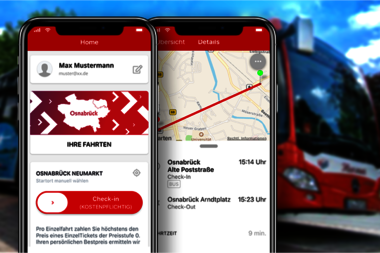 A live test run of the project began on January 14, 2020. Staff members of the city of Osnabrück in north-western Germany are testing the new system in a productive setting. Check-in/Be-out (CiBo) is an innovative, simple and fast form of ticket purchasing that enables passengers to travel for the best possible price – the system is fully automated and does not require users to have an in-depth knowledge of fares.
Check-in/Be-out makes using public transport easier than ever before
With the innovative ticketing system, public transport becomes easier and passenger comfort increases. Buying a ticket before the start of a journey is no longer necessary. Passengers simply check into the bus with a swipe in the local public transport app VOSpilot. As soon as they leave the bus, the CiBo system automatically checks them out. The best possible ticket price is then calculated.
The VOSpilot App: Routing, Car Sharing and Best-Price Ticketing in one hand
The VOSpilot app for Android and iPhone scores big with numerous popular HAFAS features, including commuter push, departure boards as well as pedestrian, bike and car routing from door to door. Users also enjoy the possibility to book a "stadtteilauto" (car sharing vehicle) directly via the app.
Additionally, mylola, the local last-minute "hot deal" portal, is integrated into the app, offering a vast variety of deals from dining to nightlife, shopping and more. Users can plan their trips to the respective locations and receive immediate routing information to make grabbing their deal a breeze.
VOSpilot is fully available to visually impaired and blind passengers for barrier-free use. Optimized for gesture-based screen readers, i.e. the voice-over technologies of iOS and Android, the app can be easily controlled and all contents are translated into speech.
Efficient Disruption Management with HIM 3.0
Experiences with the Update of the HAFAS Information Manager HIM from Austria
An improved performance, an enhanced overview and automatic real-time information – with the updated HAFAS Information Manager HIM 3.0, HaCon has created a highly efficient solution for disruption management. In Austria, an association of seven regional network operators (ARGE ÖVV) uses the new system, Thomas Eichinger, disruption management manager at ARGE ÖVV, reports on their experiences.
Austria-wide, the HAFAS Information Manager HIM is a central platform used for the communication of disruptions in the networks of the ARGE ÖVV members. HIM ensures that passengers in Austria receive correct information about current deviations from the timetable at all times. The system works based on rules and generates routing-relevant data for the information systems.
"Since numerous users plan their journeys with our trip planners, we have to meet a large number of individual requirements. With its new message types, HIM 3.0 enables us to fulfill the passengers' wishes," says Thomas Eichinger, disruption management manager at ARGE ÖVV.
Faster and Improved Passenger Communication
With the new version, customers receive a truly renewed user experience: The HIM 3.0 features an improved design and performance, shorter load times as well as a responsive layout. Predefined scenarios are supported with easy to use templates. This enables ARGE ÖVV to react to events quickly and with assured quality. The rule-based processing of disruptions increases efficiency particularly well.
"The module for the assessment of impacts proves to be an extremely convenient and fast way to provide disruption messages exactly where they are needed. The new dashboard facilitates the communication between users in case of special events, "says Thomas Eichinger. In addition, the clarity of the system's structure has been improved significantly.
Updates can now be Implemented even easier
The users of ARGE ÖVV are very happy with the new HIM, reports Eichinger. But, there is still room for innovation. "New requirements we would like to implement in future versions have already popped up," he says. With the upgrade to HIM 3.0, ARGE ÖVV can aquire enhancements, new features and future upgrades quicker and easier than before. This is an important prerequisite for being able to react promptly to market requirements.
HaCon regularly introduces new modules that complement the HIM 3.0. For example , the new Status Cockpit clearly shows whether messages are known in all information systems. This feature visualizes where synchronization may be disturbed and thus creates the basis for quick error diagnosis and correction.
Multimodal Mobility Platform for Zurich
Using New Mobility Smartly
With more than one million people living in the metropolitan area of Zurich, this city in northern Switzerland is definitely a traffic hub. As the number of new mobility providers increases, the newly enriched transportation network has to contend with an added layer of complexity. A new multimodal mobility platform, developed by HaCon on behalf of the city Zurich, will soon help residents and travelers find and choose the most efficient means of transportation.
Tram, taxi, e-bike or car sharing – as the number of mobility offers grows, passengers have more choices when traveling within the city of Zurich. The new trip planning app will help them find the most efficient way and mode of transportation to bring them from their current location to their final destination. In addition to public transport, bike and pedestrian routing, various sharing providers will also be integrated into the comprehensive trip planning app that is planned to launch sometime during the summer of 2020.
The Multimodal Routing App is a First Big Step towards making Zurich a Smart City
In order to offer passengers the ideal route for their trip, all third-party providers will be able to gain access to the mobility platform on a non-discriminatory basis. The trip planner is supposed to be independent of the mobility operators' individual business models; such is the wish of Zurich Public Transport (VBZ), the Traffic Department and the Civil Engineering Department of the City of Zurich, who will develop the multimodal routing platform together with HaCon. HaCon supports this vendor-neutral approach through a highly intelligent intermodal routing logic, open interfaces and a stable long-term system operation.
"The app will support Zurich on its way towards becoming a Smart City. It will help users to organize their trips ecologically, economically and practically in unison with the city's infrastructure. Travelers can use the existing means of transport individually for their travel planning," says Dr. Susanne Grün, project manager of the Zurich Transport Authority.
Contact Us
Press, Media and Marketing Inquiries