COVID-19: We Support You!
Information to our customers and partners
COVID-19 is a growing global challenge and it is likely going to impact each one of us for weeks to come. Whether it is in our personal or business lives, everyone is trying to contribute to limiting the spread within our communities. In order to protect our employees and our customers, HaCon has taken measures throughout our organization. These actions protect the health and safety of all parties involved while ensuring the continuity of operations.
We are actively monitoring the developments and will continue to adapt our structures for support based on the situation and prognosis of the various locations. These measures are based on the local and global health official recommendations and supported by a Siemens Task Force.
To minimize the risk of community spread, almost our complete staff works from home. Futhermore, we have eliminated nearly all business trips and reduced social contacts to the absolute minimum. HaCon fully supports remote workplaces and home office. Internal and external communication is secured by the use of several different channels. Virtual team and management meetings take place on a daily basis and ensure a close communication.
We have processes in place to support your operations with prompt and pragmatic responses. Our commitment to your projects is ongoing. At the same time, we are committed to work on new ideas and projects. To mention one advantage, our various virtual tools for communication make it easy to have online meetings on short notice and to include our experts in a conversation. Please reach out to your designated point of contact any time at your convenience.
Further actions taken include:
- Nearly all of our staff is working from home
- Close communication with all parties involved
- High standard of office hygiene for the small number of employees still working in the office
- Installation of an intranet page with up-to-date information regarding COVID-19
- Avoiding business trips which can be replaced by video conferences or can be moved to a later date
- Cancellation of all participation in exhibitions
- Cancellation of all external education events
- Quarantine process for employees returning from risk areas
The transport industry is doing a terrific job in providing mobility to the public in these difficult times. We are grateful for your service and proud to be part of this community.
Please stay safe and healthy. Together we continue to work on safe and sustainable mobility solutions.
Check-in/Be-out (CiBo) with Best Price Guarantee

First Implementation in German Public Transport
Premiere in Osnabrück: For the first time, a Check-in/Be-out (CiBo) ticketing system with best price guarantee will be put into live operation in public transport in Germany. HaCon subsidiary eos.uptrade is implementing the innovation for users of the intermodal routing app VOSpilot powered by HaCon.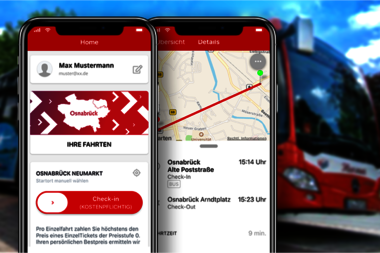 A live test run of the project began on January 14, 2020. Staff members of the city of Osnabrück in north-western Germany are testing the new system in a productive setting. Check-in/Be-out (CiBo) is an innovative, simple and fast form of ticket purchasing that enables passengers to travel for the best possible price – the system is fully automated and does not require users to have an in-depth knowledge of fares.
Check-in/Be-out makes using public transport easier than ever before
With the innovative ticketing system, public transport becomes easier and passenger comfort increases. Buying a ticket before the start of a journey is no longer necessary. Passengers simply check into the bus with a swipe in the local public transport app VOSpilot. As soon as they leave the bus, the CiBo system automatically checks them out. The best possible ticket price is then calculated.
The VOSpilot App: Routing, Car Sharing and Best-Price Ticketing in one hand
The VOSpilot app for Android and iPhone scores big with numerous popular HAFAS features, including commuter push, departure boards as well as pedestrian, bike and car routing from door to door. Users also enjoy the possibility to book a "stadtteilauto" (car sharing vehicle) directly via the app.
Additionally, mylola, the local last-minute "hot deal" portal, is integrated into the app, offering a vast variety of deals from dining to nightlife, shopping and more. Users can plan their trips to the respective locations and receive immediate routing information to make grabbing their deal a breeze.
VOSpilot is fully available to visually impaired and blind passengers for barrier-free use. Optimized for gesture-based screen readers, i.e. the voice-over technologies of iOS and Android, the app can be easily controlled and all contents are translated into speech.
Contact Us
Press, Media and Marketing Inquiries