Consulting and Research
Efficient Solutions for Rail Freight Transport & Logistics
Growing volumes of goods are being produced and transported worldwide. It's estimated that international freight volumes will increase nearly fourfold by 2050 – while also increasing related greenhouse gas emissions. To master this challenge, we need to improve the management of capacities and logistics chains, provide more alternative and multimodal connections, and accelerate the shift of freight transport from road to rail in order to reduce environmental impact.
In order to reach this goal, HaCon consults and assists its customers with projects in rail freight transport and combined transport. Our service portfolio includes the requisition and negotiation of subsidies, the completion of financial and administrative formalities and the overall coordination of all parties involved such as railway companies, shipping agents, institutions and associations. Our interdisciplinary consulting team of transport engineers, geographers, lawyers and IT specialists puts great emphasis on an approach that is both integrated and results-oriented. HaCon has many years of extensive project management experience for the European Commission and other project sponsors.
Analysis of Traffic Data and the Market
Thanks to our extensive industry knowledge and databases, we develop reliable scenarios of traffic flows and transport volumes. From this, we derive individual and market-conform recommendations for actions.
Concepts of Transport & Operation
We review your transport and process chains regarding untapped potential and develop customized concepts that will boost your operation and optimize your resource management.
Extensive Project Management
We support you with the process of applying for and negotiating project funding, coordinating with partners, internal controlling and financial administration.
All Current Research Projects
Shift2Rail
Shifting to Rail throughout Europe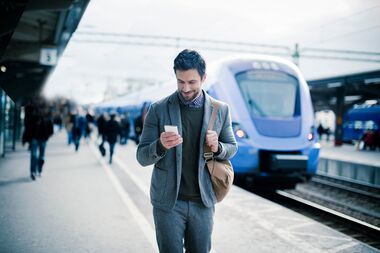 Shift2Rail is the first European rail initiative to seek both focused Research and Innovation (R&I) and market-driven solutions by accelerating the integration of new and advanced technologies into innovative rail products. R&I carried out under this Horizon 2020 initiative will develop technologies to complete the Single European Railway Area.
As an associated member, HaCon has been supporting the Shift2Rail initiative right from the start with its comprehensive software implementation and integration expertise regarding train planning, dispatching and operation as well as intermodal mobility planning.
Within IP4, one of five Shift2Rail Innovation Programmes that focus on IT solutions, HaCon and its project partners Amadeus, Ansaldo STS, Bombardier, Diginext, Indra, Network Rail and Thales proudly present a new demonstrator application for Android smartphones: "Travel Companion" helps users to travel all around Europe, with cutting-edge features like multimodal rou-ting, travel alternatives and even location-based experiences, such as on-board information and third-party offers along the route.
Having started in November 2018, the new Shift2Rail project MaaSive continues and complements the work accomplished within the previous projects in the areas of travel shopping, trip tracking, booking and ticketing, and follows up on the development of "Travel Companion." The project will provide additional mobility offers like DRT services for the existing IP4 ecosystem and focus on the compatibility with the Mobility as a Service (MaaS) approach. In addition, MaaSive will enhance the IP4 ecosystem by including multi-user capabilities, time and product-based best-price calculations, ticket update mechanisms and the possibility to claim passenger rights.
This project has received funding from the European Union's Horizon 2020 research and innovation program under grant agreement No 730822.
Downloads
Flyers & Brochures