Best-Price Ticketing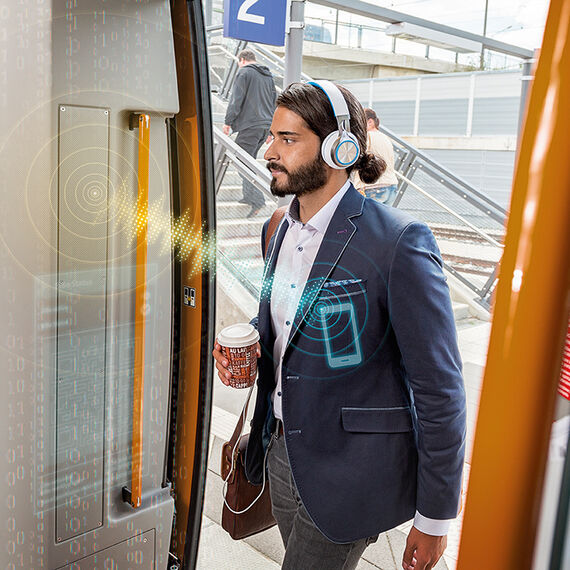 Using the GPS-based Check-in/Check-out, passengers check in with a simple "swipe" when boarding the train or bus and thereby receive a valid ticket for their entire journey. At the end of the trip, the check-out works the same way – then, the cheapest fare is automatically calculated and charged. Travelers easily receive their ticket without having to buy one in advance.
Even easier is Be-in/Be-out: Users only need to activate the BiBo feature on their smartphone – no further action required. The app automatically detects where the trip begins and where it ends. The billing takes place via the saved payment method at the best price – the cheapest fare is automatically calculated for the distance traveled. CiCo and BiBo can also be used in combination, as Check-in/Be-out.
More comfort, step by step
Expanding mobile prepaid ticketing solutions is simple: The Check-in/Check-out option can be easily integrated into existing apps. The further development to a Check-in/Be-out system requires the installation of supporting hardware in the vehicles. The gradual evolution to a comprehensive Be-in/Be-out solution with fully automated logging of the route traveled and automated price calculation offers maximum flexibility for passengers and public transport providers alike – including a certification for rail transport and highest privacy standards.

World Premiere: BiBo in Switzerland
The first implementation has been successfully launched: The Swiss Suedostbahn and the Touring Club Switzerland have extended their mobility apps "abilio" and "Einfach mobil" with the BiBo function, called Walk-in in the case of "abilio". In a first step, BiBo is now available in the trains of Swiss Suedostbahn – whereas CiCo is already used throughout Switzerland.
There are further possibilities for seamless travel chains: Users receive comprehensive information for ideal trip planning in addition to their public transport ticket and can even pay parking fees at the station or book a taxi at their destination – simply via the app and always at the best price.
With Walk-in, we offer travelers a very comfortable, easy and secure solution.
Thomas Küchler, CEO Swiss Suedostbahn AG