Flexible Mobility with MOOVME App Powered by Hacon and eos.uptrade
On-demand shuttles complement public transport
Cross-network tickets in a single purchase
Flexible new ticket options for increased passenger demands
Continuous further development by Hacon and eos.uptrade
With the MOOVME app for Android and iOS, the public transport companies in the Central German Transport Association (MDV) offer their passengers reliable connection information and mobile ticketing from a single source. Now, the app also features 'RufBus' on-demand services, cross-network tickets in a single purchase and flexible new ticket options. The technical implementation was carried out by Siemens Mobility subsidiaries Hacon and eos.uptrade.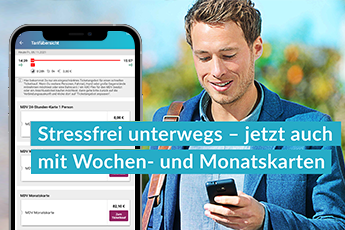 In addition to the extensive public transport offer, app users can now also book on-demand services in various MDV regions: The 'RufBus' connections are integrated in the MOOVME trip planner and users can book them with just a few clicks. The shuttle bus will then be available at the agreed time and place.
Dirk Esters, COO HAFAS at Hacon: "The market is increasingly acknowledging that integrated on-demand services like 'RufBus' are a useful and attractive supplement to the traditional, timetable-based public transportation system. They contribute to bridging the service gaps in off-peak times and low-populated regions as well as on the first and last mile, while being both cost-efficient for operators and convenient for passengers."
As another new feature, MOOVME is offering cross-network ticket options: Based on a uniform tariff server by the Fraunhofer Institute IVI, users now have access to almost the entire range of routes and tariffs of all five transport associations in Saxony. "This way, passengers can buy a ticket for a trip across network borders in a single purchase process. In the background, several tickets for different networks are combined – a much more user-friendly approach," says Mathias Hüske, Managing Director at eos.uptrade.
By expanding the app's ticket offer to include weekly and monthly tickets, the MDV is responding to the increased passenger demand for flexible mobility. Steffen Lehmann, Managing Director at MDV: "We have noticed a much higher interest in digital, cashless ticketing options. In addition, passengers are increasingly willing to pay larger sums via their smartphones. For us, it was only logical to start offering weekly and monthly tickets via MOOVME."
The same applies to the so-called connecting tickets: If passengers have a ticket subscription for a certain tariff zone, they can now easily add a ticket for the remaining route – best price guaranteed. On top of that, MOOVME features a new ticket advisor function that helps users find the right ticket, step by step. Even if travelers want to bring along bikes, dogs or friends, everything can now be booked from a single source in MOOVME.