Timetabling and Maintenance
Timetable Management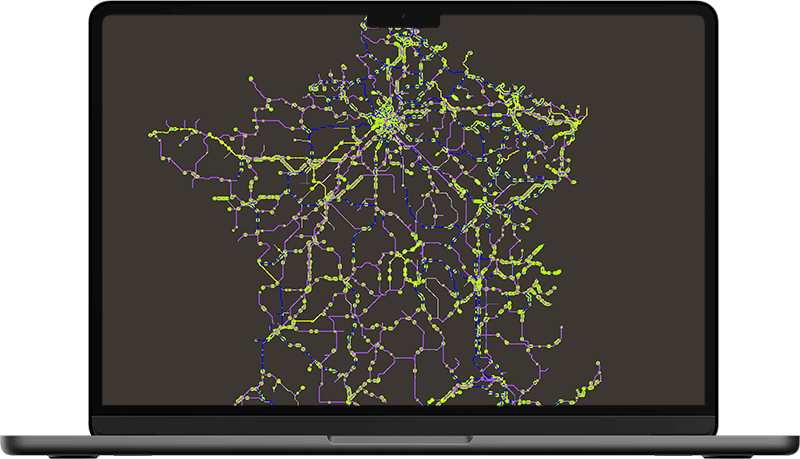 TPS.plan
TPS.plan combines the management of infrastructure, timetables and train paths. It provides reliable timetables for strategic long-term planning as well as annual and daily timetables. The system models a "digital copy" of the rail network and the infrastructure. This way, it enables highly accurate timetable management.
Interface and Functions TPS.plan
UI with geography-, planning- and diagram-editor
Precise runtime calculation
Automatic search for conflict-free train paths
Simulation of timetables and operations with evaluation options
European standard of communication TAF TAP TSI
Planning Track Works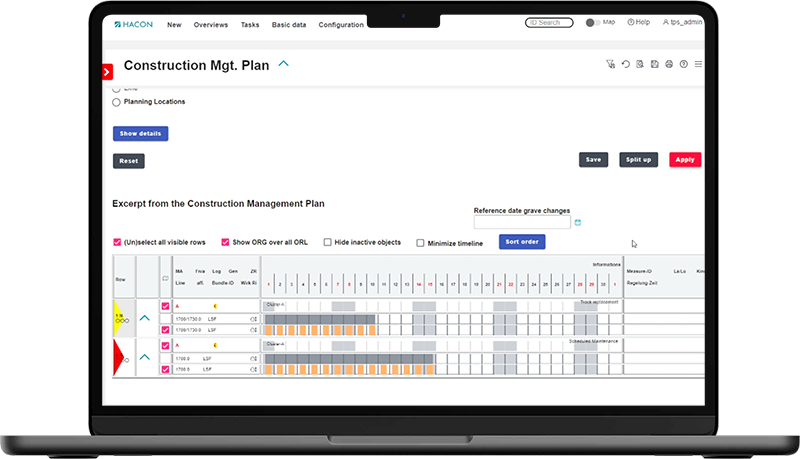 TPS.trackworks
With our TPS.trackworks software, constructional measures can be planned with as little impact on passengers as possible. From strategic long-term planning to coordinating single construction projects on short notice – our software simplifies processes, and makes it possible to manage all constructional measures on the rail network in a central system.
Central access to short- and long-term constructional measures
All steps of the process are supported by a configurable workflow engine
Precise localization of construction sites
Interactive maps and visualizations
Easy export of all constructional measures
Operation and Dispatching
Live Dispatching
TPS.live
When existing timetables have to be changed on short notice, TPS.live is the optimal software solution for this task. Dispatchers can react to disruptions with no time loss, while considering all network operations. TPS.live automatically determines the best possible dispatching measures, displays all current train positions and forecasts their further journey dynamically.
Integration of infrastructure, timetable and real-time data
Creation of a detailed timetable on the basis of the framework planning and for previously unplanned trains
Continuous rescheduling of encounter traffic
Online conflict detection based on real-time train positions
Manual, semi-automatic and automatic resolution of conflicts
Depot Management
TPS.yard
Whether yards, train supply facilities or depots – with TPS.yard, capacity and utilization of facilities can be planned precisely. The software determines exactly which tracks should be used at which time, right down to single wagons. Both long-term and short-term planning, including live operation, can be handled with the system.
Interface and Functions TPS.yard
Modern user interface: Web ITOP (interactive track occupancy plan)
Automatic validation and detection of conflicts
Intuitive web usage for different user groups
Chat function & sidebar
Data Management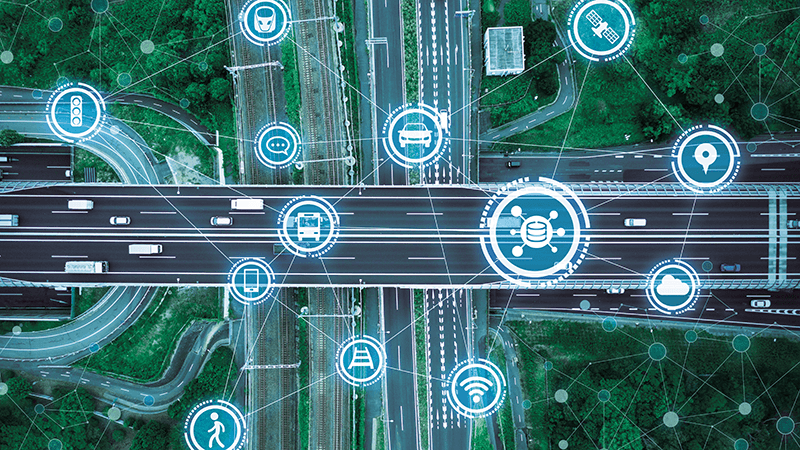 TPS.integrate
Importing, editing, harmonizing and integrating: With TPS.integrate, mobility and timetable data from different transport providers can be brought to a common base. The web-based tool analyzes data from different sources and ensures their consistency. Harmonizing data from different providers makes it possible to offer passengers seamless travel chains.
TPS.integrate at a glance
Automatization of data processing
Enrichment of existing data
Validation and control of import and export processes
Web-based and available in the cloud