Hacon Develops Open Mobility Platform for Deutsche Telekom
Kick-off for a new Mobility as a Service (MaaS) platform
Siemens subsidiary Hacon wins the contract for development
Deutsche Telekom becomes a strong and innovative partner for the public transport industry
In a Europe-wide tender, Deutsche Telekom has chosen Hacon to develop a new mobility platform. The Siemens subsidiary based in Hannover, Germany, will – together with eos.uptrade – provide the platform including apps for web, Android and iOS by June 2022. Together with Stadtwerke Bonn (SWB) in the Rhein-Sieg transport association (VRS), Deutsche Telekom will set up an innovative MaaS platform, which will be a significant step towards making mobility more sustainable and digitally connected.
Mobility as a Service aims to provide holistic, sustainable transportation that offers a reasonable alternative to personal vehicle use and covers all aspects of the passenger experience – from information and trip planning to ticketing and payments to the journey itself. Dr. Olga Nevska, Managing Director Telekom MobilitySolutions: "MaaS can only become a reality when all mobility players team up. We have a very trustful partnership with the transport companies and mobility service providers and look forward to many more partners joining our MaaS platform!"
The project, which will be launched in the Cologne-Bonn area, is open to mobility providers from all regions in Germany. In a first step, Telekom employees, their families and friends will benefit from the app's comprehensive mobility offers and intermodal booking options.
Michael Frankenberg, CEO Hacon and Head of Intermodal Solutions at Siemens Mobility, looks forward to the joint project: "Deutsche Telekom, with its extensive know-how in digitalization, offers tens of millions of people secure access to telecommunication services every day. Now, with an open MaaS platform, they are creating the basis for making sustainable, intermodal mobility easily accessible for everyone. With its B2C background, Deutsche Telekom is perfectly qualified to successfully implement this project for our mobile world."
With MaaS, traveling from door to door will become easier and more comfortable for all people – whether with public transport, on-demand services, new mobility providers, taxis, bikes or by foot. In addition to a full MaaS integration, the new app will offer a new, intuitive user interface and many more innovative features. All forms of mobility will be available with just one click – digitally, consistently and conveniently.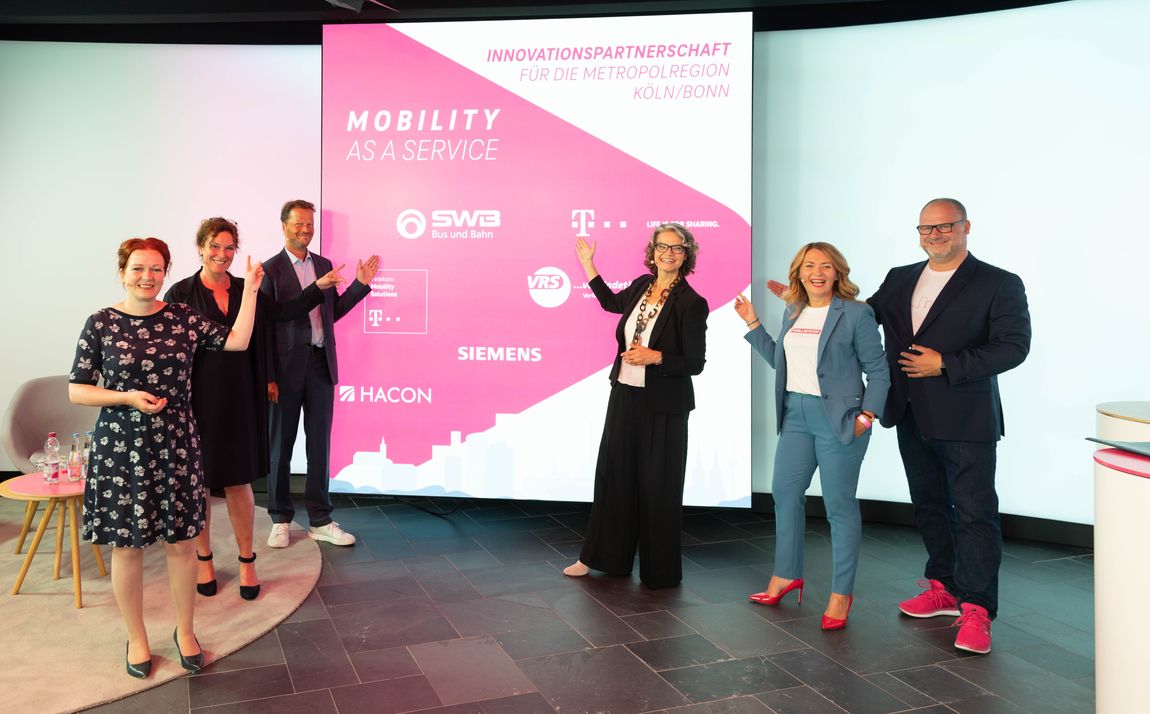 About
Together, Siemens Mobility, Hacon, eos.uptrade, Bytemark and Padam Mobility provide a unique and holistic ecosystem of digital services and solutions. From trip planning across passenger communication to mobile ticketing, payment and comprehensive Mobility as a Service (MaaS) solutions, fleet management to train planning systems and mobility data analytics – their extensive portfolio addresses the complex issues of the mobility industry and offers the best conditions for maximized passenger comfort.