Powered by Hacon Technology: Siemens Mobility and everis to Develop a Mobility as a Service Platform for Renfe in Spain
Siemens Mobility and everis have been awarded a 5-year contract by Renfe, the national railway company of Spain, to develop and operate a countrywide, intelligent Mobility as a Service (MaaS) platform. Hacon will be contributing its technology to this exciting and very comprehensive project.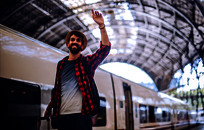 The comprehensive digital platform will integrate various modes of shared and public transport, such as train, bicycle, metro, bus, car sharing, and scooter services, so passengers can easily identify and directly book the trip option that best meets their needs. Once completed, the platform will be available in 27 cities across Spain including metropolitan areas like Madrid, Barcelona, Valencia, Bilbao, and Sevilla.
Siemens Mobility will provide the core technology for the system, while the multinational consulting firm everis will supply the system integration and support for the commercial operation, including the marketing and legal aspects.
Siemens Mobility's intermodal digital solutions are powered by its subsidiaries Hacon, eos.uptrade, Bytemark and Padam Mobility. With its trip planning software HAFAS provided by Hacon, Siemens Mobility has successfully implemented intermodal MaaS systems across the world including Dubai, Denmark, Luxembourg, Andorra and soon to the Netherlands, as well as the San Francisco Bay Area in the United States.
Read more in Siemens Mobility's press release