HAFAS User Conference 2018 Displays Mobility of the Future
Successful Start to the Year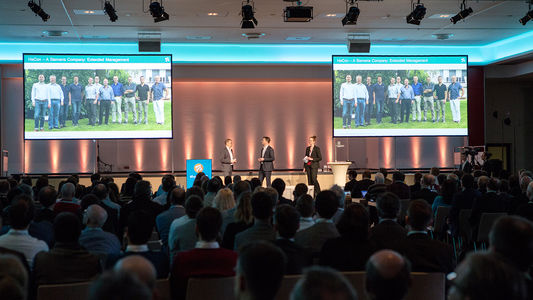 Big Data, MaaS and DRT: On February 20th and 21st, Hacon's annual gathering for the international public transport industry focused on the latest solutions for the digitalization of mobility.

Hacon customers from all around the world followed the invitation to this year's HAFAS User Conference that unveiled the latest developments in digital passenger information, ticketing and trip planning. In addition to Hacon's own presentations and workshops, the audience enjoyed first-hand insights from international customers working with HAFAS.

Big Data Analytics tailored to transport companies attracted lots of attention: Hacon technology gathers valuable data from various systems, including trip planning, ticketing, fleet management and intelligent infrastructure. This allows public transport operators to understand passenger behavior and improve public transport offerings. In cooperation with Siemens Mobility, Hacon provides tools to understand and evaluate these data treasures – e.g., to enable detailed predictions of transport demand, automatic incident detection and quality evaluations regarding connections and First Mile/Last Mile issues.

HAFAS has established an advanced platform for Mobility as a Service (MaaS) and allows intermodal trip planning and integrated ticketing in several countries, including Germany, Switzerland, Dubai and the United States. In addition to public transport connections, the HAFAS algorithm factors in car sharing offers, taxis, bike rental stations, private cars and bikes as well as park & ride and bike & ride options. Even demand-responsive transit solutions, so-called DRT services, can already be provided with HAFAS systems. Based on HAFAS.fleet, public transport operators can integrate local shared mobility offers or even DRT services on their own.

Integrated ticketing solutions from eos.uptrade, Bytemark and Siemens make a significant contribution to ensuring convenient mobility. Be-in/Be-out ticketing (BiBo), to name just one, automatically registers passengers via their smartphones and an optional Bluetooth transmitter. HAFAS then calculates the best price for the route traveled.

The new HAFAS component HAFAS.motion provides passengers with additional comfort through individual, user-specific travel information and acts as a personal assistant on the way from A to B. The HAFAS Kids App also has a strong focus on the needs of its users and navigates children safely from door to door. Two German transport associations, the RMV and the VBB, will be the first ones to introduce Hacon's Kids App.

Further highlights at the HAFAS User Conference included indoor navigation with augmented reality, HAFAS bots in social media channels as well as updates on the HAFAS business product portfolio.