CapMetro's Trip Planner Adds Via Pickup
On-Demand Transport for Seamless Travel from Door to Door
Hacon and Bytemark are proud to announce that users can now plan on-demand trips in the CapMetro trip planner: In addition to Capital Metro's fixed-route services, the HAFAS-based trip planner will now automatically present riders with additional options for on-demand transit or a combination of both. When riders choose an itinerary that includes an on-demand ride, they will be directed to the Pickup app, powered by Via, a leading provider of on-demand, technology-enabled microtransit platforms. Via's Pickup app, which launched in 2019, provides on-demand public transit rides in and around Austin, with an average pickup time of less than 15 minutes.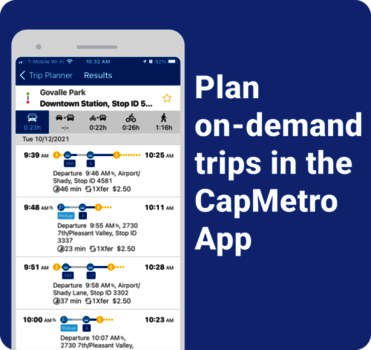 "With this integration, Hacon and Bytemark are helping us leverage our large transit user-base to increase awareness and use of the Pickup app to help riders solve their first and last mile challenges," says Chad Ballentine, V.P., Demand Response and Innovative Mobility at Capital Metro.
Brian Thompson, Director of Business Development at Bytemark: "On-demand transportation as an addition to public transit is a great way of making mobility more sustainable and digitally connected. We are excited to be teaming up with Via, as they help a growing number of agencies to add on-demand shuttles to their fixed-route services."
In addition to on-demand transportation, Bytemark also integrated the MetroBike bikeshare system in Austin. For nearly a year, CapMetro App users have been able to purchase a combined bikeshare and transit pass in the same transaction, which significantly simplifies the payment process. The integrations of the Pickup on-demand service and MetroBike are prime examples of Hacon's and Bytemark's mission to work with transit agencies to develop Mobility as a Service (MaaS) systems that truly meet the needs of the public while advancing their community's various initiatives, such as promoting active transportation and reducing traffic congestion. MaaS aims to provide holistic, sustainable transportation that offers a reasonable alternative to personal vehicle use and covers all aspects of the rider experience – from information and trip planning to ticketing and payments to the trip itself.
Read more in Bytemark's press release