Individual, Intermodal and Congestion-free Mobility
With INVG's New App in Ingolstadt (Germany)
Intermodal door-to-door routing
Efficient and ecofriendly alternatives to private car use
Further planned development of the app and integration of additional mobility service providers
With its latest app relaunch, Ingolstadt's transport company INVG is taking a big step towards offering its passengers Mobility as a Service (MaaS): The INVG's trip planner now features bicycle, pedestrian, car and Tier e-scooter routing that helps users to seamlessly complement their public transit rides on their way from door to door. Previously, the app showed the individual modes of transportation side by side as a multimodal offer. Hacon has now expanded the feature portfolio to include intermodal route calculations in the INVG's entire service area. The new offer is available via the INVG's web trip planner (www.invg.de/fpa) and the 'Fahrinfo' apps for Android and iOS.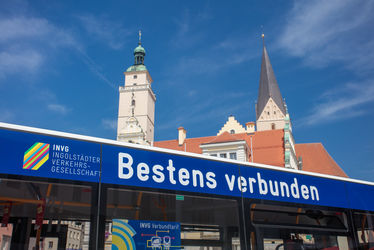 One important goal of this initiative is to reduce the high density of traffic on the city's streets and to offer citizens environmentally friendly alternatives to car-only trips. "In terms of green mobility, we want to help convince more and more people of the advantages of intermodal travel chains," says Dr. Robert Frank, managing director of INVG. "With our new app, passengers can find the fastest route to the nearest train station or bus stop and cover it with a Tier scooter, their own bike and, for longer distances, their car. These advantages apply to the last-mile challenges as well."
Paul Mayer, technical director of INVG, adds: "Intermodal travel is often much faster than taking the car for the entire distance. We look forward to further mobility providers joining in, so that we can offer our passengers an even more diverse range of options."
Michael Frankenberg, CEO Hacon: "We are happy to support our long-standing customer INVG with the integration of new mobility offers. This makes mobility in the Ingolstadt city area and the neighboring communities even more efficient and ecofriendly."