Hacon Keeps Growing
From 3 to 300 in 33 Years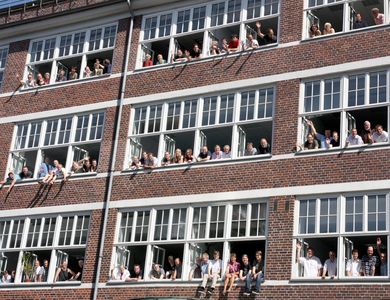 Within the past five years, the number of employees at HaCon has doubled. Now, the company has reached a new record.
Hacon is growing and expanding: 300 colleagues are now working in the company's headquarters in Hannover as well as in the Berlin, Paris and London offices. Among them are experienced industry specialists, university graduates and young professionals as well as newcomers from technical and non-technical backgrounds. For years, Hacon's app development has had the biggest growth. Now, the HAFAS Mobile division is glad to welcome iOS developer Jonas Pencke as their new colleague. Jonas, who has just moved into the headquarters, is officially Hacon employee No. 300.
Since 1984, the signs have been pointing toward growth: founded by three graduated railway engineers, Hacon was quickly able to establish a profile as a forerunner of the digitalization process in railway traffic. The HAFAS trip planning system succeeded the classical railway timetable and today forms the basis for hundreds of trip planning apps and websites in over 30 countries. In 2015, the renowned Massachusetts Institute of Technology (MIT) put Hacon on its list of the "50 Smartest Companies" worldwide – crucial for this decision were the many HAFAS-based apps that combine data from the most diverse mobility providers and thereby enable intermodal travel chains.
"The app market is booming, therefore we are still looking for software developers for our Android and iOS teams as well as experts for C++ and Java," says Hacon CEO Michael Frankenberg. "We are also hiring in the areas of product and project management for national and international customers." Hacon achieves a very low fluctuation of less than four percent due to its family-friendly working conditions, an attractive work atmosphere and extensive social benefits.
Jonas Pencke, born in Hacon's founding year 1984, has just started working in the company's iOS department. In addition to Hacon's innovative strength, personal factors were most decisive for him to opt for his new employer: "As a father-to-be, I was looking for a company that offers flexible working hours. At Hacon, I found the ideal basis to achieve a good work-life balance."
Since June 2017, Hacon has been managed as a separate legal entity under the umbrella of Siemens AG. This results in synergy effects and growth opportunities for both companies, particularly in international business.