Hacon is a Member of the Siemens Family
Software company becomes wholly-owned subsidiary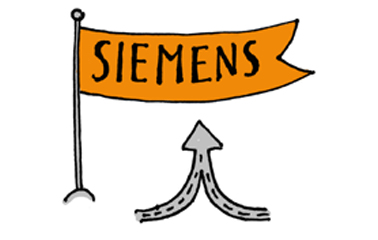 As of today, the Hannover-based software company is expanding the Siemens Mobility Division's portfolio as a wholly-owned subsidiary of Siemens AG.
The antitrust authorities have approved Siemens' acquisition of Hacon. For over 30 years, Hacon has been leading the way with its sustainable and innovative software solutions for public transportation, mobility and logistics. From now on, Hacon will to continue its success story under the roof of Siemens AG in the Mobility Division. The two companies have agreed not to disclose financial details.

Hacon will be managed as a separate legal entity by the existing management team Michael Frankenberg, Werner Sommerfeld and Peter Talke. The team will be completed by Andreas Dittmann who will act as CFO. Andreas Dittmann recently worked as Head of Performance Controlling for Siemens Mobility Management in Berlin. Now, he looks forward to his new position: "Hacon is a strong, innovative company whose agility we will maintain and support. Development, sales and order processing will stay in Hannover and will continue to be performed in Hacon's customary manner and quality."

Michael Frankenberg, CEO of Hacon: "As a member of the Siemens family, we are now able to offer our customers and partners an even broader spectrum of services - particularly in intermodal mobility management. Especially in our international business, we will continue building on our special strengths and combine them with the strengths of Siemens as a leading provider of mobility solutions in rail and road transportation."

Jochen Eickholt, CEO of Siemens' Mobility Division: "The acquisition of Hacon enables us to enter a completely new business area that complements our current portfolio, expanding it to include timetable scheduling and trip planning by passengers. With this move, we're rigorously implementing our digitalization strategy and opening up new growth opportunities for our company along our customers' value chain."

Siemens is a leading rail automation provider, offering systems that even include complete driverless operation. A leader in road mobility solutions as well, Siemens plans to expand its intermodal digital offerings with the acquisition of Hacon. Together with Hacon, Siemens will be able to serve rail infrastructure operators and public transportation companies as a single-source supplier of innovative software solutions for train and route planning, timetable information systems, cutting-edge payment systems and intermodal mobility platforms.