HAFAS User Conference 2019
Unique Innovations for the Future of Mobility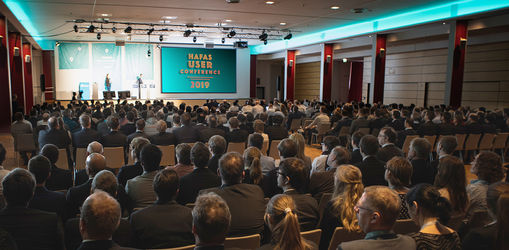 Almost 500 participants attended Hacon's 22nd annual HAFAS User Conference in Hannover: On March 26th and 27th, Hacon presented its extensive solution portfolio designed to meet the challenges of the transportation industry. Visitors enjoyed a special on-demand shuttle service that was organized in close collaboration with public transport.
The digitalization of mobility was the central topic at this year's HAFAS User Conference: Numerous presentations and workshops focused on on-demand services, also known as Demand Responsive Transport (DRT), Mobility as a Service (MaaS) with its various components for seamless travel chains, as well as Data Analytics for transport companies. Hacon customers and partners from all over the world shared their experiences with HAFAS, while Michael Peter, CEO Siemens Mobility, gave a first-hand account of Siemens' plans for the future of mobility.
As usual, Hacon presented its approach to Demand Responsive Transport in an innovative and unconventional way: Together with its French partner Padam, Hannover's transit agency ÜSTRA and the local taxi companies, Hacon offered its customers a flexible DRT service during the conference – fully integrated into the HAFAS trip planner. Users experienced first-hand how easy and effective it can be to establish a smart combination of DRT and public transport. Instead of perceiving on-demand options as competition for buses and trains, they are rather a great way to enhance low-demand connections, especially at night.

On-demand services ideally complement public transport – there are many more new flexible mobility providers that should be taken into account. If properly integrated, third-party services can significantly increase the performance of public transport. Therefore, Hacon emphasized the meaningful orchestration of all available transport modes at the HAFAS User Conference: As a flexible and secure MaaS platform, HAFAS already integrates a wide variety of data and interfaces of different transport providers in one comprehensive trip planner – from public and private transport to DRT services, road traffic information, car sharing offers, taxis, bike and pedestrian routing.

This multitude of possibilities and the increasing complexity of transport options require a smart and, preferably, automatic personalization for the traveler. Therefore, Hacon has developed the HAFAS component HAFAS.motion, which gives passengers additional comfort by providing customized travel information. In addition to a more appealing, integrated mobility offer, new ticketing concepts also contribute to reducing potential barriers when using public transport: The integration of Apple Pay as well as the XiXo solutions by eos.uptrade, Bytemark and Siemens make mobility even more convenient: Be-in/Be-out ticketing (BiBo), for example, automatically registers passengers via their smartphones and an optional Bluetooth transmitter, while HAFAS calculates the best price for the route traveled.

Hacon technology is already a valuable data source for travel planning, ticketing, fleet management and infrastructure – the many different system components generate a real data treasure that can only be truly understood with the right know-how. In the field of mobility data analytics, Hacon is working closely with Siemens to develop new tools to understand and evaluate the treasures found in mobility data. This allows transit agencies to better understand passenger behavior and improve their public transport offerings.

For the 22nd time in a row, the HAFAS User Conference provided a platform for innovations and pioneering trends in mobility: Together, Siemens Mobility, Hacon, eos.uptrade and Bytemark offer a unique and holistic ecosystem of digital services and solutions. From trip planning across passenger communication to mobile ticketing, payment and MaaS solutions, fleet management to train planning systems and mobility data analytics – with such a comprehensive product portfolio, HaCon and its partners help ensure that the mobility industry can face the challenges of tomorrow and enhance the passenger experience.