Successful Launch of "SBB Reiseplaner" App
Door-to-Door Trip Planner Facilitates Intermodal Route Planning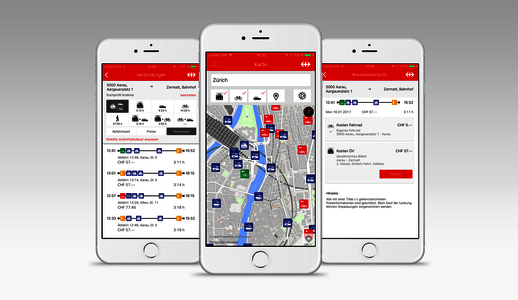 Since recently, travelers in Switzerland have been enjoying Hacon's latest mobility portal: The new door-to-door trip planner "SBB Reiseplaner" completes the SBB's app portfolio and facilitates intermodal route planning.
"SBB Reiseplaner," the new HAFAS-based trip planner from Hacon, has been successfully launched on the App Store and Google Play. With the latest addition to their comprehensive range of mobile services, Swiss Federal Railways (SBB) responds to the growing need for intermodal travel; "SBB Reiseplaner" offers all-encompassing trip planning from door to door and addresses all those who want to combine the SBB services with additional modes of transport.

Integrated services include public transport connections, the largest car sharing provider in Switzerland (Mobility), bike rentals, private cars or bikes as well as P&Rail and bike parking options – more transport modes will follow soon. The HAFAS algorithm ensures optimized search results that will be tailored to individual requests and needs. Once the user has opted for an intermodal connection, all corresponding tariff details will be listed to facilitate booking and ticketing. While valid SBB tickets are immediately visible, for third-party service providers, the user will be redirected to their respective apps. Car sharing vehicles as well as P+Rail parking can be booked directly via the "SBB Reiseplaner."

Philipp Leimgruber, project manager at SBB, said: "Our new app allows customers to plan and book their trips easily and quickly; the smart combination of transport modes provides them with seamless door-to-door routing. By working with an experienced software specialist like Hacon, the SBB takes its first steps towards intermodal mobility."

Alexander Godescha, project manager at Hacon, said: "Nowadays, rail services are no longer in competition with other modes of transport – they complement each other and can offer the utmost flexibility to those who combine them. We are delighted to continue our long-term partnership with SBB by enabling individual and intermodal trip planning from a single source with our latest app."

Already during development, users put the "SBB Reiseplaner" to the test and successfully contributed their ideas; since December 2016, the Preview version has been available for Android and iOS devices. Together with the SBB Community members, the app will be continuously advanced and will also be available as a web version.