Premiere for Check-in/Be-out System
eos.uptrade Technology Revolutionizes Taking the Bus in Osnabrück, Germany
Stadtwerke Osnabrück AG, the city's public services provider, has become a pioneer for Check-in/Be-out technology in local public transport. Today, after a pilot phase, the innovative system went live. With the official launch of the app YANiQ, passengers can now ride the bus as often as they like and only receive an invoice at the end of the week – best price guaranteed!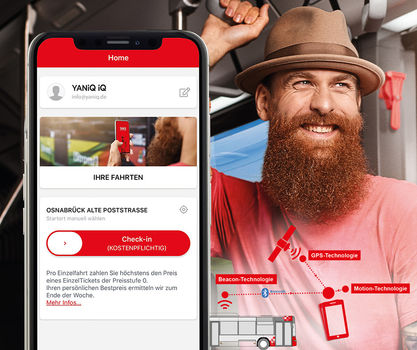 YANiQ is based on the innovative XiXo solution by eos.uptrade. In Osnabrück, the ticketing specialists implemented XiXo as Check-in/Be-out (CiBo) – a state-of-the-art, simple and fast way of buying tickets that enables passengers to travel for the best possible price at all times. The fully automated system makes pre-departure ticket purchases obsolete and alleviates the customer's need to have in-depth knowledge of the tariff system. As a result, CiBo significantly enhances the passenger's public transport experience. To use the app, the customer simply checks into their trip with a swipe, then hops off the bus and the CiBo system takes care of the rest by automatically logging them out. This convenient "Be-out" technology is a first for Germany. The system adds up all the bus trips and, at the end of the week, calculates the cheapest price based on the customer's actual use. This ensures that riders never pay more than the appropriate ticket.
Michael Kujas, CEO at eos.uptrade: "One swipe in the app actively confirms the start of a trip – and the rest is basically an all-round carefree package." Maik Blome, YANiQ Project Manager at Stadtwerke Osnabrück: "Beacons in our buses communicate via Bluetooth with the passengers' smartphones. Our transmitters also use the GPS data and motion technology of the users' phones. These three components enable us to obtain exact data for the distances traveled, including potential transfers."
"During the Corona crisis, it became very clear that cashless ticketing solutions are essential for public transport and that we have to constantly push them forward," said Werner Linnenbrink, Head of the Mobility Business Unit at Stadtwerke Osnabrück. "Thanks to the CiBo technology, our customers always pay the lowest tariff and gain more flexibility and quality of life. With the successful launch, we have reached a very important milestone in the digitalization of the mobility sector, which we have been working on very hard for a long time."
XiXo is available in four expansion stages. For YANiQ, expansion stage three (CiBo) with beacons is used, but XiXo also offers simpler Check-in/Check-out solutions without beacons as well as fully automatic Be-in/Be-out implementations. XiXo is a product of Siemens Mobility, eos.uptrade and Hacon. Software specialist highQ operates as the main contractor for the project. YANiQ complements Hacon's VOSpilot route planner, which continues to provide passengers in Osnabrück with reliable, intermodal door-to-door routing along with 'traditional' mobile ticketing.
Read more in eos.uptrade's press release